First and foremost, congratulations on choosing to enter the market of leasing property! Investing in Tuscon real estate can be a very profitable venture.
However, to enjoy the full benefits of being a landlord, you must ensure that your unit is rent-ready.
This means improving the condition of the property both in terms of aesthetics and functional maintenance. Not only will this improve the appeal of your property to potential renters, but these tips will keep your property in compliance with local ordinances and state landlord-tenant law.
1. Mind the Curb Appeal
Since it's the first thing tenants see, your yard and facade need to be beautiful. Still, some landlords disregard the appeal of their exterior, focusing their efforts only on the interior fittings and fixtures.
You can entice a potential renter to visit your vacant Tucson rental property with proper landscaping. Whether you have a single-family residence with lots of yard space or a multi-family property, go out of your way to ensure the yard looks healthy all year long.
If you lack the expertise, hire a local landscaper to keep the bushes trimmed and the grass mowed.
2. De-Clutter
If you've been hoarding furniture, tools, and any manner of paraphernalia, this is the time to put on a yard sale.
People enjoy a minimalist space, especially when moving in and bringing their own things with them. Make sure that your walkways and doors are clear of obstacles for safety purposes.
3. Inspect the Property
For a thorough property inspection, we recommend that you 'walk the wall.' This means starting at the left or right wall at the front door, and following that same wall through every room of the house until you end up at the starting point.
This method allows for a comprehensive check of the condition, fittings, and appliances.
During this walk, we suggest that you assess the following:
The windows, and their latches or locks
The curtains and blinds
Appliances and devices
Cracks or holes in the walls
The quality of paint and the possibility of scratches
4. Prepare a List
As you perform the inspection of your rental unit, walk around with a pen and paper (or a note-taking app on your phone) and note all the repairs and upgrades needed.
If you have a phone with a good camera, you should be taking photos. This will even make it easier when buying materials or when explaining to a contractor what needs to be repaired in the rental property.
We recommend that you make a comprehensive list of every possible repair needed on the property. As mentioned above, you need to entice the potential renter with one look at the property. That's not possible when repairs and renovations are clearly needed.
5. Consider Hiring a Professional
Do you have the expertise and experience it takes to make the necessary repairs? If you're confident you do, then by all means, head down to the nearest DIY store, purchase the equipment and tools you need, and do the repairs.
If you think you'd be better off letting a professional handle it, then that's the best choice. Contacting an expert ensures that the job is done up to standard right from the start. It also guarantees compliance with building code standards and other Homeowners Association rules, should they apply.
6. Replacement, not repair
Do you have a dishwasher in your rental that has seen better days? We're talking about that 15-year-old appliance that needs maintenance every few months and doesn't work as it should. Instead of constantly incurring that cost, consider simply purchasing a new appliance.
Consider buying an appliance more of an investment and less of an additional cost. New, state-of-the-art appliances appeal to every renter, and you can be sure to attract many prospective tenants when your unit has the latest HVAC system and appliances.
7. Changing Locks
Your rental property will be your tenant's home. Just like everyone else, your tenant wants to feel safe at home. Your renters will appreciate living in a property with security measures in place.
We're not asking you to go overboard with the most expensive security measures on the market! Simply changing the locks to the doors and windows can make all the difference.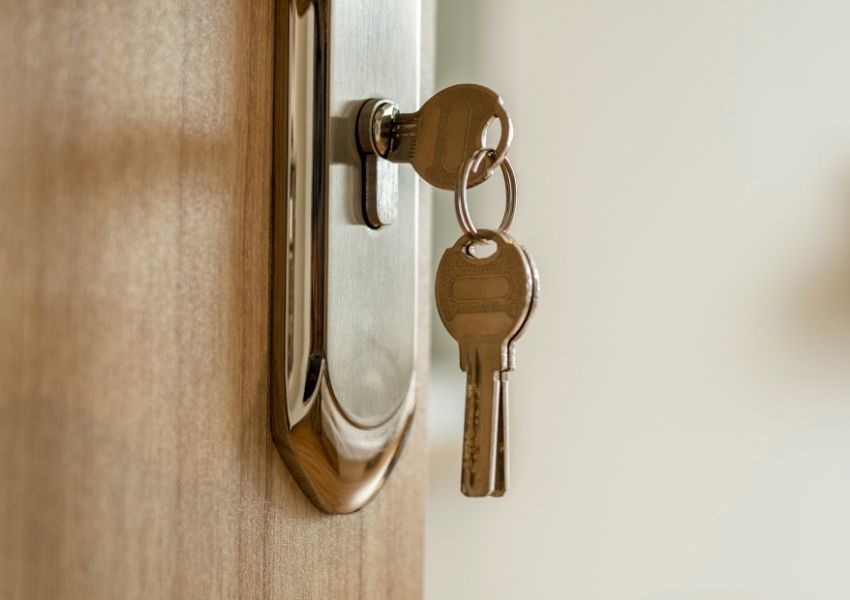 8. Cleanliness
The point of a property showing is for a potential renter to see themselves living in the space. How can they do so if the property is dusty, full of clutter, or there are stains on the curtains and blinds?
Call a cleaning crew to carry out a deep cleaning service of the property, removing the toughest stains from your floors and ensuring every inch is clean.
However, you don't want to call the crew before repairs have been done. Make sure you plan accordingly to avoid incurring double the costs.
9. Check for the Presence of Mold
Mold tends to grow in humid areas. For example, in the basement, bathrooms, laundry room, and in the sub-floor, should your property be on sloping land. Not only is it an eye-sore, but it's also a health hazard.
As part of your inspection, be on the lookout for mold growth in high-humidity areas.
Conclusion
Follow these tips, and you'll be sure to bring in quality tenants and reduce the vacancy of your Tucson rental property. We know many property owners don't have the time to conduct inspections or vet contractors, so instead, you can rely on the premier property management company in Tucson!
Offering customized property solutions close for almost four decades, Foothills Properties is the premier service provider in Tucson and the surrounding neighborhoods. We have a reputation for high-quality services that ease the burden for property owners and maximize convenience for tenants.
Our team manages over 500 rentals in the region, from single-family residences to apartments to condominiums.
Get in touch with us today!